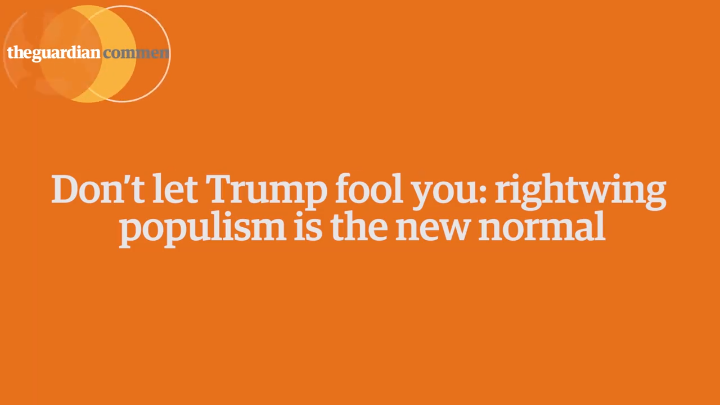 Uploaded not even two months ago, this The Guardian video about the rise of Donald Trump in America as being consistent with recent political trends in Europe, opens with this banner slide proclaiming 'rightwing populism is the new normal.' I love the orator, Gary Younge, a plump black man with a big-hoop earring (honestly if you only listened to him without seeing him, you'd have no idea he's black – crushing that racist myth), who almost pleasantly lays out the case why you shouldn't 'let Trump fool you.'
Watch:
Don't let Trump fool you: rightwing populism is the new normal

It might be tempting to view the political success of Republican presidential candidate Donald Trump as something uniquely American. But, argues Gary Younge, rightwing populism and scapegoating of society's vulnerable is cropping up all across the west. This is what happens when big business has more power than governments

Posted by The Guardian on Wednesday, January 6, 2016

Also, I promise this won't exclusively become a Donald Trump lambasting website – it's just that the 'new normal' references are all too easy given his lampoonish behavior.